From the press release by publisher Brill (Leyden, The Netherlands): American Moravians and their Neighbors, 1772-1822, edited by Ulrike Wiethaus and Grant McAllister, offers an interdisciplinary examination of Moravian Americanization in the Early Republic. With an eye toward the communities that surrounded Moravian settlements in the Southeast, the contributors examine cultural, social, religious, and artistic practices of exchange and imposition framed by emergent political structures that encased social privilege and marginalization.
Through their multidisciplinary approach, the authors convincingly argue that Moravians encouraged assimilation, converged with core values and political forces of the Early Republic, but also contributed uniquely Moravian innovations. Residual, newly dominant, and increasingly subjugated discourses among Moravians, other European settlers, Indigenous nations and free and enslaved communities of color established the foundations of a new Moravian American identity.
Contributors include: Craig D. Atwood, David Bergstone, David Blum, Stewart Carter, Martha B. Hartley, Geoffrey R. Hughes, Winelle Kirton-Roberts, Grant P. McAllister, Thomas J. McCullough, Paul Peucker, Charles D. Rodenbough, John Ruddiman, Jon F. Sensbach, Larry E. Tise, Riddick Weber, and Ulrike Wiethaus.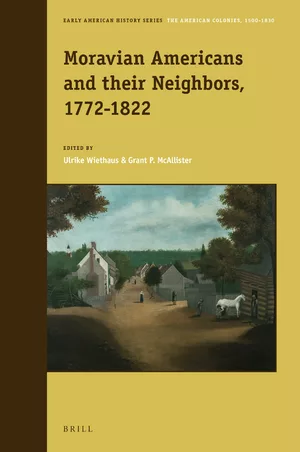 In the Acknowledgements section of the book, Wake Forest University Professors Wiethaus and McAllister kindly note the role Eric played in the organizing and hosting of the September 2020 conference that gathered together these scholars and topics. "Lastly, we thank our co-convener, former archivist Eric Elliott, whose vision and knowledge throughout every phase of this project provided steadfast foundational support. Without his devotion to Moravian history and maintaining a vibrant interplay among the Moravian Archives, Southern Province, the general public, the Moravian Southern Province, and our research community, our undertaking would have been near impossible. Every detail of this project speaks of his contribution."